Laser Tag is not just for Kids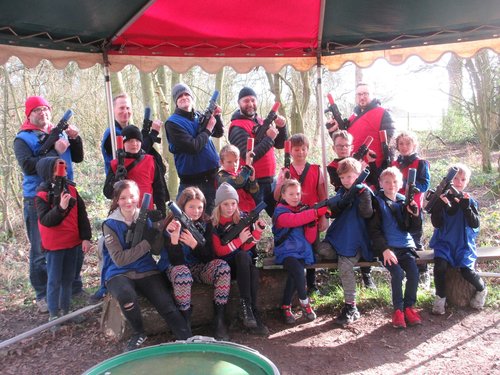 Laser Tag is the perfect choice as part of your corporate team-building activity as a standalone activity or as a Finale to a multi activity event. Our outdoor Laser-tag Games offers a fun alternative to Paintball. A fun and enjoyable experience without the need for projectiles so therefore no need for restrictive safety items like Goggles and Body Armour to slow you down. Laser-Tag does not have to be strenuous either it is really a stealth like tactical game.
Our Laser Tag guns use infrared technology, fired from the barrel of the Laser Guns, no need for body or head sensors just a training bib as team identity. The Laser guns are incredible accurate to a range of 100+ metres. Audible messages are heard by each player to provide acknowledgment of hits and losses 'Player Eliminated' or 'Medic, Medic Man Down' and at the end of each game a full inventory of statistics.
Corporate Laser Tag as part of a Team Building Day as a serious objective or just having a Great time.
Ask us about our Clay Pigeon Experiences both Real & Laser versions or maybe our Archery & Rifle shooting Experience and not forgetting our Axe throwing Sessions and for company and corporate days we are fully portable and can bring the toys to you.
Laser Tag Movies
Woodland Laser Tag for Seth
ASHQ Woodland Laser Tag Adventures