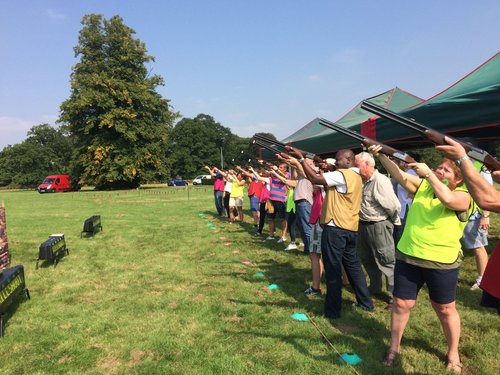 The feel of a real shotgun without the use of cartridges!
You'll be holding what looks and feels like a real shotgun, but it's been deactivated and turned into a high-tech version, firing invisible infrared beams. There's no recoil, but you'll still need a steady eye…
Your fellow shooters will be firing alongside you at the same time. That's something you can't do on a traditional clay shoot! The scoreboard will tell us who was bang on, and who was off beam.
There's more than one way to shoot a clay! You'll be firing at targets launched from different angles, just like on a classic clay shoot.
We offer Laser Clay Shooting in Worcestershire at our Oaklands outdoor shooting activity centre in Hanbury.
WE ARE TOTALLY MOBILE
But if you prefer we can come to you. Laser Clay Shooting can go where real shotguns can't. We only require a grassed area of 50 metres x 25 metres and preferably North Facing.
If the weather is poor on the day, a mini marquee is erected.
Laser Clay Shooting is a great group shooting activity – ideal for team building and corporate events as well as a great way to spend an afternoon with your mates.
Laser Clay Shooting Movies
Laser Clay at Oaklands in Worcestershire
10 Gun Laser Clay Shooting
15 Gun Laser Clay Shooting
Lovely Sunny Day for Laser Clay Shooting
10 Gun Indoor Laser Shooting