Professional Axe Throwing Experiences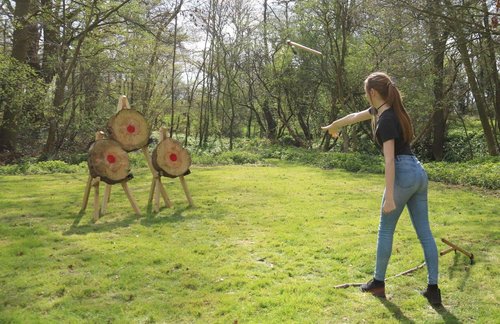 Axe throwing is a sport in which the competitor throws an axe at a target, attempting to hit the bulls eye as near as possible. Axe throwing said to have originated in Canada being part of the Lumberjack community, but history shows that Axe throwing was also a popular pastime in mediaeval times and goes back to the Vikings, wherever it originated it can be enjoyed in modern times today.
Today there are commercial locations in United Kingdom where participants can compete, Our Axe throwing experiences can be a stand-alone or part of a multi activity event, we take this sport very seriously as it is potentially hazardous .
Our kit and us are totally mobile so we can come to you or you can come to our Woodland retreat in Worcestershire
Don't try this at home the sport of axe throwing deals with a potentially dangerous Tomahawk Axes, Expert supervision is a must to enjoy this experience.
Don't take risks book our professional team.
Ask us about our Clay Pigeon Experiences both Real & Laser versions or maybe our Archery & Rifle shooting Experience and not forgetting our Outdoor Woodland Laser Tag Sessions and for company and corporate days we are fully portable and can bring the toys to you.
For enquiries of all our activities at Oaklands in Hanbury or at your chosen venue please call or email Mark
Axe, Knife & Star throwing