Outdoor Woodland Laser Tag for Elizabeth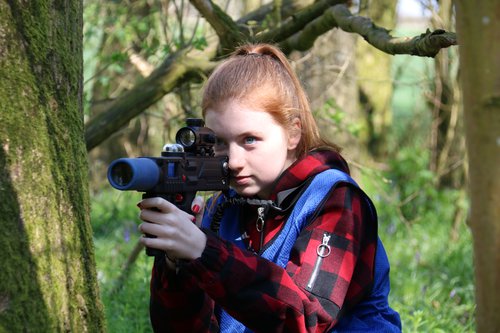 Elizabeth and her friends enjoying Outdoor Woodland Laser Tag at our activity centre in Hanbury Nr Bromsgrove Worcestershire West Midlands.
Laser Tag is not just for boys, girls play the game well with good game planning and strategy.
In the movie, at the end, I asked a specific question to the Bravo Team (Blues) When is the only time to move?
Why not come along for your birthday bash and find the answer
Our ASHQ taggers can be set up to simulate most weapons, ours are set to give both the best long range (120 metres) and short range (15 metres) firing options. 3 tags to a loss then 1 loss or kill is registered to the receiving tagger and 1 player eliminated is credited to the offender. 1500 rounds at the start of each game, muzzle flash corresponding to the tagger colour, voice recognition of Hits & Losses, auto re spawns or back to base, unlimited lives or 5 lives and to finish full debrief at the end of each game who you tagged and who tagged you. Other options available soon. King of the Hill, Team Death match & Capture the Flag
ASHQ Laser Tag with Shooting4Fun is our latest acquisition to our portfolio of equipment and is proving to be an excellent choice, as a company we have had Laser Tag combat with us for 17 years of our 25 years of shooting entertainment.
Where else can you go locally to enjoy combat games with No Mess No Paint No Pain in the fresh air??
With natural hiding places, even in the winter months Our Laser Tag is just Fun ! Fun ! Fun !
And guess what the weather does not stop us either our woodland looks fantastic all year round the stingers and brambles are all under control with pathways through them
Ask us about our Clay Pigeon Experiences both Real & Laser versions or maybe our Archery & Rifle shooting Experience and not forgetting our Outdoor Woodland Laser Tag Sessions and for company and corporate days we are fully portable and can bring the toys to you.