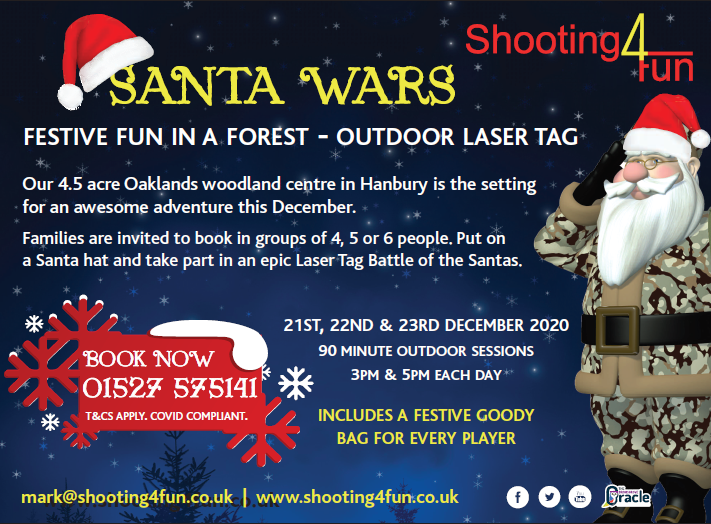 .
Players (in bubbles of 4 to 6 to comply with Covid regs) will need to work together to take on and wipe out the opposing teams.
All players should dress as Santa's (at least a Santa Hat).
90 minutes of Laser Tag Fun and Covid friendly.
The event is being run at our Oaklands venue in Hanbury and is on a pre-booked entry.
We will be running 90 minute sessions on the following days with a maximum of 24 players per session (4 bubbles of 4 to 6 players) so now is the time to book your time, please let me know on receipt I will book you in and send you an invoice with joining instructions etc.
Please note you will be playing against other groups but within your bubble/s
To comply with current covid regs there will be no gathering so please bring your flasks of Hot Chocolate and Mince Pies with you.
Sessions are 21st – 22nd – 23rd December 2020 with 15:00 or 17:00 Start times at £19.95 per player
Ideal for families and or friends, minimum age is 6
To Register we will need the following information.
Player Name – Player age - Contact No – email address – preferred session time
We will then check availability and advise and then confirm in writing together with our Invoice and joining instructions