Shooting Experience Vouchers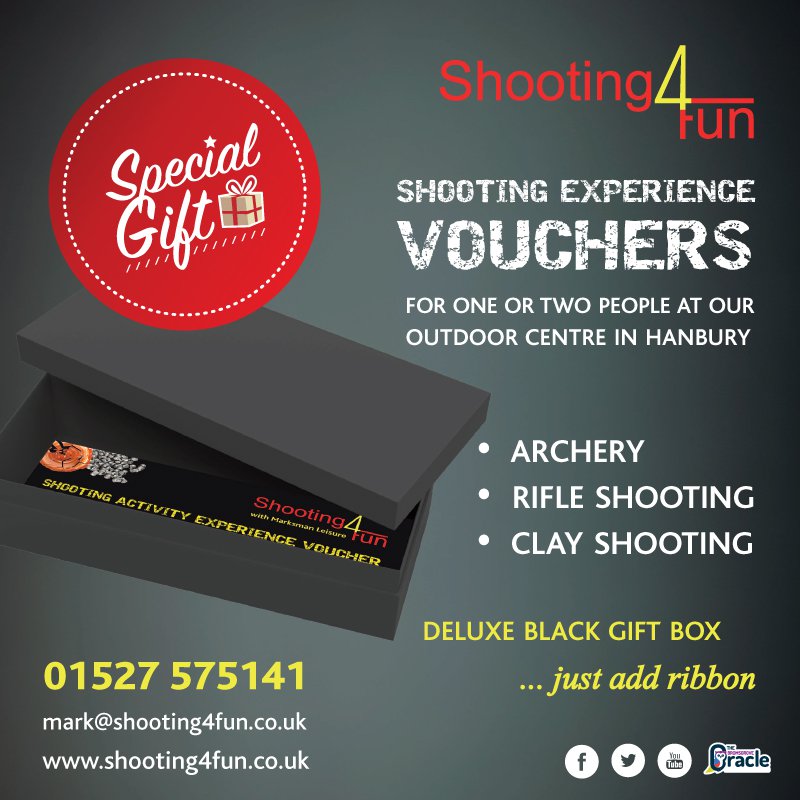 We offer exclusive Shooting Vouchers. The duration of the experience is up to 1.5 hours and includes refreshments and professional tuition.
This all takes place at our Outdoor Activity Centre in Hanbury, B60 4HS Worcs. (Google Map Shooting4fun)
The current cost of our exclusive vouchers are;
Clay Pigeon for 1 player £125 for 2 players £185 for 3 players £250 or 4 players £280 (inclusive of up to 50 Clays & Cartridges each)
Rifle Shooting for 1 player £100 for 2 players £140 for 3 players £180 or 4 players £215
Archery Shooting for 1 player £80 for 2 players £115 for 3 players £150 or 4 players £185
The voucher/s are presented in a Black gift box all you need to do is add the bow.
Vouchers are valid for 6 months (please note we have never refused a voucher)
When the recipient and guests are ready, they simply call us to make an appointment, all bookings are exclusive to the recipient we do not mix them with other groups, friends or family members are welcome to spectate.
In the case of inclement weather the shooting can be conducted under cover within our all weather shooting pavilion.
To continue I will need your name and mobile number and your message to the recipient together with their name and finally your address of where you want the voucher to go to.
On receipt of the further information, I will send an Invoice for the voucher this can be paid online as a BACS payment or by a telephone card payment, we can then forward the voucher to you.
Hope we can help, if you need to chat then please call me on 01527 575141
For larger group or family vouchers please contact us to discuss further price options.