Battle of the Bunnies April 1st, 2nd & 3rd
Easter Fun with the Battle of the Bunnies Outdoor Laser Tag Experience.
Players (in bubbles of up to 6 to comply with recent Covid regs) will need to work together to take on and wipe out the opposing teams.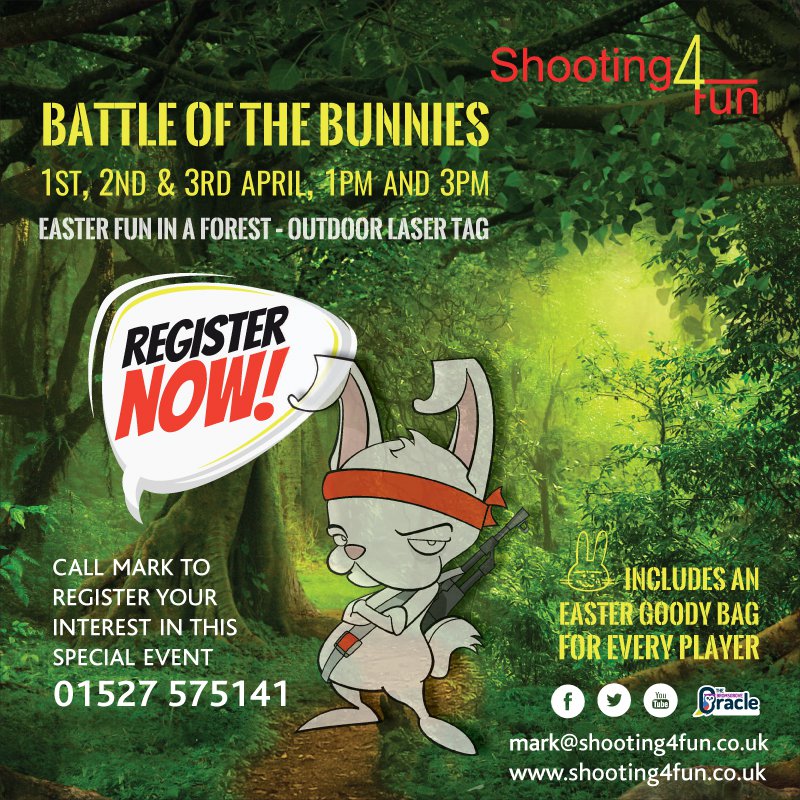 All players should dress as a bunny (Buck's & Doe's) this not compulsory but will add to the atmosphere.
90 minutes of Laser Tag Fun and Covid friendly.
The event is being run at our Oaklands venue in Hanbury and is on a pre-booked entry.
We will be running 90-minute sessions on the following days with a maximum of 24 players per session (4 bubbles of 4 to 6 players) so now is the time to book your time, please let me know on receipt I will book you in and send you an invoice with joining instructions etc.
Please note you will be playing against other groups but within your bubble/s
To comply with current covid regs there will be no gathering so please bring your Hot Drinks and Lettuce Sandwiches.
Sessions are 1st – 2nd – 3rd April 2021 with 13:00 and 15:00 Start times at £19.95 per player
Ideal for families and or friends, minimum age is 6
To Register we will need the following information.
Player Name – Player age - Contact No – email address – preferred session time
We will then check availability and advise and then confirm in writing together with our Invoice and joining instructions
Kind Regards
Mark
M. E. Treverton
Shooting4Fun
Tel: 01527-575141
Email: mark@marksmanleisure.co.uk
Our Venue or Your Venue We are Fully Mobile
Laser Clay Shooting 5 & 10 & 15 Gun Systems available
Real Clay Shooting From one to one's to Larger Groups
Outdoor Laser-Tag Elite ASHQ Taggers
Indoor Laser Target Shooting Galleries Dryfire (Clay Coaching) Laser Sniper & Crystal Target Shoot out
Archery Shooting Compound Bows
Axe Throwing Tomahawk axes
Rifle Shooting Promatic Sharp Shooter
Team Building Programmes
Multi Activity Events