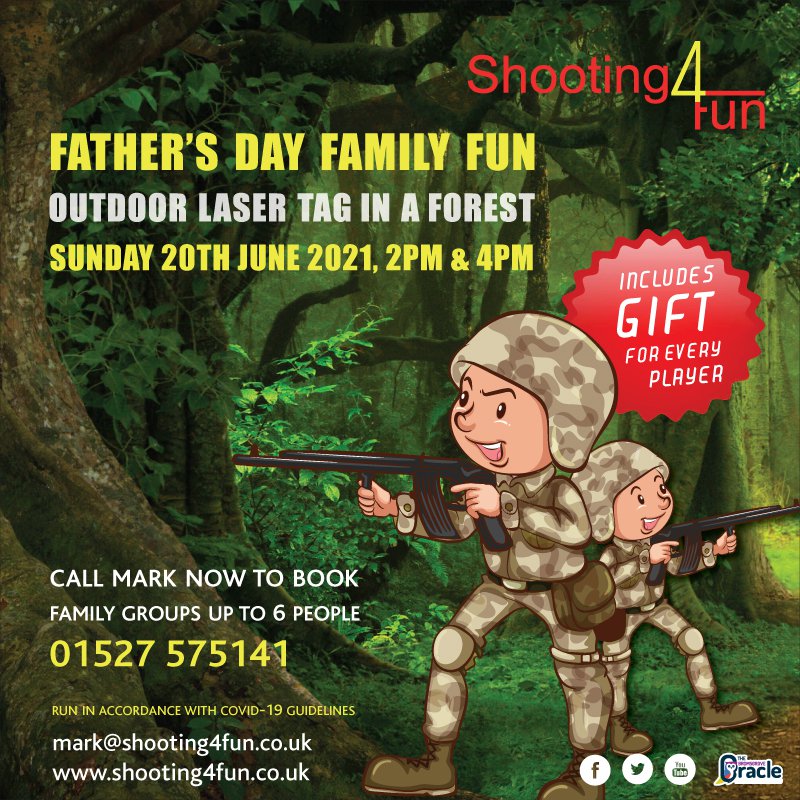 Father's Day Family Outdoor Laser Tag Experience
Father's Day Family Outdoor Laser Tag Experience. (Minimum Age 6)
Players (in bubbles of 4 to 6 to comply with Covid regs) will need to work together to take on and wipe out the opposing teams.
90 minutes of Laser Tag Fun and Covid friendly.
The event is being run at our Oaklands venue in Hanbury and is on a pre-booked entry.
We will be running two 90-minute sessions on Sunday 20th June 2021 with a maximum of 24 players per session (4 bubbles of 4 to 6 players) so now is the time to book your time, please let me know on receipt I will book you in and send you an invoice with joining instructions etc.
Please note you will be playing against other groups but within your family bubble.
To comply with current covid regs there will be no gathering so please bring your refreshments with you.
Sessions are Sunday 20th June 2021 with a 2pm or 4pm Start
All sessions are £19.95 per player
To Register we will need the following information.
Player Names – Player ages – Your Contact No – Your email address
We will then check availability and advise and then confirm in writing together with our Invoice and joining instructions
Shooting4Fun is brought to you by professional suppliers of the very best in shooting games and laser activities in the West Midlands since 1993. This year 2021 is our 28th year in providing Shooting Entertainment Shooting games include, Real Clay Shooting, Laser Clay Shooting, Rifle Shooting, Archery Shooting, Woodland Laser Tag Parties Axe Throwing to name but a few.
Our Venue or your chosen Venue we are fully mobile
Oaklands Outdoor Activity Centre Hanbury,
Nr Bromsgrove
B60 4HS
01527 575141